Let's understand how we calculate hair transplant cost at the Venkat Center in Bangalore. We try to cater to all sections of society, while maintaining efficiency and safety.
We advise our patients to ask their doubt so they can feel at ease during the surgery. These questions can be along the lines of any detail about the procedure, including the timings, post procedure recovery, precautions & costs. We believe in maintaining transparency and serving the patients best interests.
Calculating hair transplant cost in Bangalore
In the interest of maintaining transparency during hair implantation, the number of hairs are calculated and explained to the patient before-hand. We always give extra hairs to patients and refund if we put lower number of hairs.
Since hair transplantation is a surgical procedure, it can be influenced by several factors. Some common factors affecting hair transplant cost are;
The amount of hair being moved: This is the most important factor and we give attention to it.
Surgical technique: Of the two common methods of hair transplant, FUE is costly, by a slight margin.
Surgeon: One of the important factors is the role of the surgeon perfroming the surgery. With experience, comes dexterity and hence the costs.
Package
Details
hair transplant cost
Premium Package
Surgery by Dr. Venkat
Rs 30 per hair follicle
Standard package
Surgery by Dr. Aniketh
Rs 25 per follicle
Economy package
Surgery by Dr. Deeksha
Rs 20 per folllicle
Short Notice Package
Against last minute cancellation
The patient must be willing for short notice of 1-2 days.
By Dr. Aniketh/ Dr. Venkat
25% discount on standard package
Rs 20 per follicle
Training package
Surgeries during training workshops. Under supervision of Dr Venkat/Aniketh
A 50% discount on standard package. Rs 12 per follicle
Shraddha package
To help poor patients
One case in a week – has a longer waiting list
50% discount of standard rate. Rs 12 per follicle
Hair transplant surgery cost includes free consultation for one year after surgery.
Remember: Trained and qualified doctors perform surgeries at The Venkat Center. The doctors will be there throughout – before, during and after the surgeries.
What is unique about the Venkat Center?
At our hair transplant clinic in Bangalore, we follow a combination of different features, which helps us to produce the best results for each patient. These are based on sound scientific principle and have been honed over decade of experience.
We do not believe in using gimmicky terminologies, but tricks and tips based on experience, and expertise.
With eperience comes expertise in the surgery. After performing more than 3000 hair transplants, our doctors have been able to achieve very high success rates with very low hair follicles lost during the process.
Using a combination of treatments: Drugs, Dietary & lifestyle changes, surgery, biologic products such as PRP and energy devices such as laser depending on the needs of a given patient.
Expertise in all techniques FUT, FUE, body & beard hair, all types of recipient methods as per patient's needs.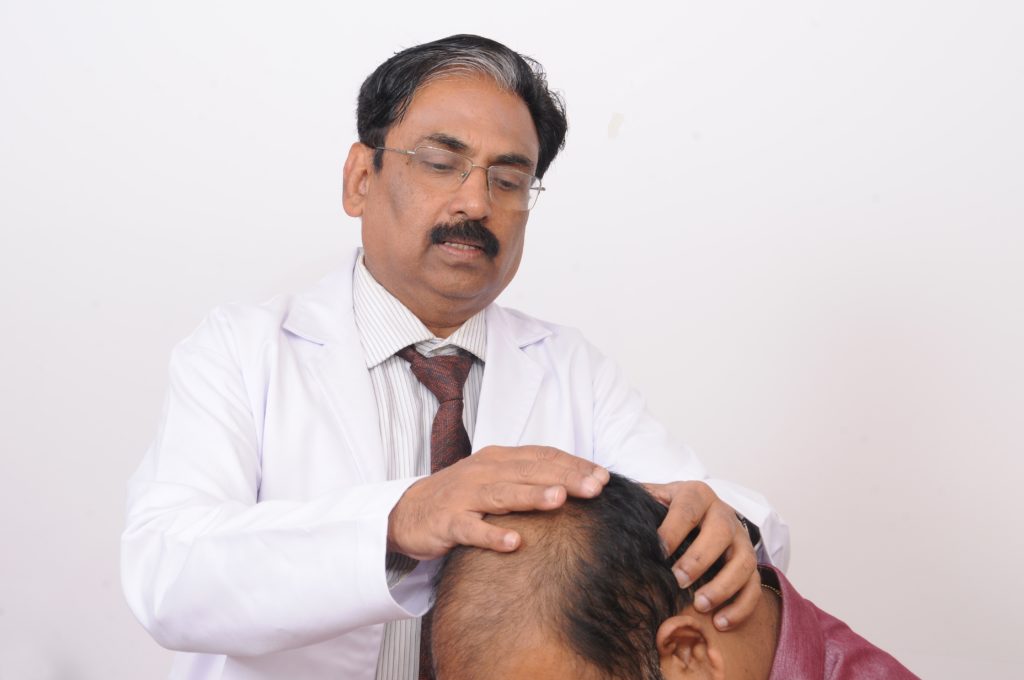 Tests performed before the procedure:
Donor site:
Careful analysis by hair scan, to identify the type of donor hair – type of units, extent of donor area, and thickness of hair.
Determination of elasticity.
Careful choice of method, FUT/FUE or combination.
Recipient site:
Assessment for hairline design, density, existing hairs, temporal hump, future progression, vascularity and appropriate use of preformed slits, slit and place and implanters in the recipient area.
Why go for hair transplant at The Venkat Center
Systemic assessment for any systemic illness – SAFETY COMES FIRST.
Determination of patient's needs, aspirations, attitudes and affordability.
Choice of the right method after thorough counselling.
Calculating cost of hair transplant: per follicular unit, mentioning both the number of units and an approximate number of follicles.
Counting of hair grafts is done in front of the patients.
Billing will specifically mention each type of unit and the total number of follicles and units.
Our assistants are qualified nurses – employed and trained by us.
All steps are supervised by Dr Venkataram, Dr Aniketh & Dr Deeksha who will be available for consultations later also.